Hungarian Folk dance. Let's get the hang of it!
No nicer way for a Hungarian than celebrating 4th of July with some national dance. You do not need to be apprehensive if you still do not have dancing skills yet, because there is a really fun way to improve yourself at the festival.
Check out the video of the last dance instruction and you will believe my word after you saw these people to practicing.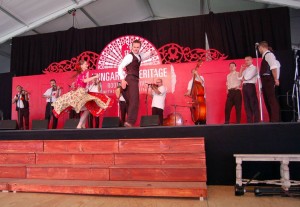 I also would like to provide some background information for you to have a more extensive knowledge of Hungarian Folk dance and where it comes from.
Singing folk songs and dancing enlivened not just country people's holidays but it brought some cheerfulness in their workdays, too. Dancing was also an integral part of a wide range of social occasions. It provided an effective forum for group and couple interaction including courtship.
Couple dances formed the core of community entertainment because of their lively step patterns. The most popular couple dance is the csárdás which became known as the national dance of Hungary all over the world. Besides csárdás and its variations the so-called jumping dances, twirl dances from Transylvania and other old style slow dances were also favoured. Solo man's dances existed as integral part of dance life until the I. world war.
We get to go now and mix some more ingreadients in the Hungarian Pot, but I'll get back to you in a few with some lovely Hungarian dishes.