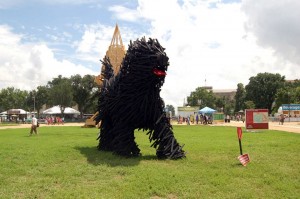 We were so excited to see the puli dog in Washington DC.
The Puli is an ancient sheepdog, from Hungary introduced by the migration of the Magyars from Central Asia more than 1,000 years ago.
The Puli were used for both herding and guarding livestock.
The Puli dog sculpture, which artist Gabor Miklos Szoke has been constructing in the Hungarian Heritage program area.
What more can we say–it was a great day; we enjoyed beautiful weather; and we continue to be inspired by the creativity and knowledge that is exchanged on the Festival grounds.